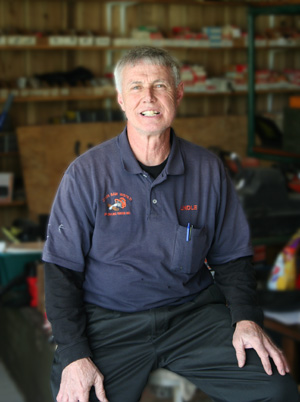 I started out as a teen in my father's construction supply and equipment rental business in Louisville, KY. At age eighteen I moved to Bowling Green, KY to attend Western Kentucky University. While there I supported myself by peddling equipment off of an old pink book mobile. Two years later I joined the US Air Force where I was a jet engine mechanic. After the service I continued to sell and service construction equipment until 1983 when Chain Saw World was established. All together, I've been in the business around forty years. During the past nine years I've been selling parts through the internet. I have sent parts to France, Germany, East Africa, New Zealand, Canada and most US states, including Alaska. Besides attending business classes at WKU and being an Air Force mechanic, I've completed service schools offered by Husqvarna, Echo, Kholer, Kawasaki, Onan, Wisconsin, Poulan, McCulloch, Shindaiwa, Briggs & Stratton, Tecumseh and Tanaka. As a public service, I've conducted service classes for the city of Bowling Green parks and recreation staff.
Thank You for visiting ChainSawWorldBG.com!!!
Let us know how we can help you.